Maniwaki Theatre Renewal
Maniwaki Theatre Renewal
The project about is the transformation of a school auditorium into a professional theatre. For years, the local Cultural Center occupied the school auditorium to host its program after its permanent venue burnt down in 2009. After receiving a public grant, it launched an architectural competition to initiate the process to transform the auditorium.
Location 211, rue Henri-Bourassa, Quebec, Canada
Status Completion expected 2020
Client Maison de la culture de la Vallée-de-la-Haute Gatineau
Type Theatre, Performance, Cultural, Public
Building Area 1 710 m²
Seating Capacity 423
The Red Window
The purpose of the transformation is to create a new vibrant identity in a functional building to attract the public.
The key architectural element is a red glass facade that opens the existing fish shaped building by creating transparency with colour. The grey wood shingle slanted facade is replaced by a contemporary wall that set apart the new theatre from the 1967 school.
The Auditorium
The auditorium renovation transforms the balcony in a horseshoe shape. That configuration creates an interaction between the public of the balcony and the orchestra.
Black and red colours create a dramatic mood appropriate for theatres. Point lights add glitter and emphasize the curved walls.
The Foyer Revisited
The foyer of the new theatre is twofold: it consists of a wide circulation space used by students to access the school cafeteria and a lobby that encircles the auditorium, separated by a glass partition.
From 1967 to 2019
What used to be an auditorium connected to a school like a classroom, becomes a building in its own right.
The entrance to the theatre is no longer shared with the school. A separate direct access is created beside the new glass wall.
The transformation of the plan
The existing plan undergoes a major transformation.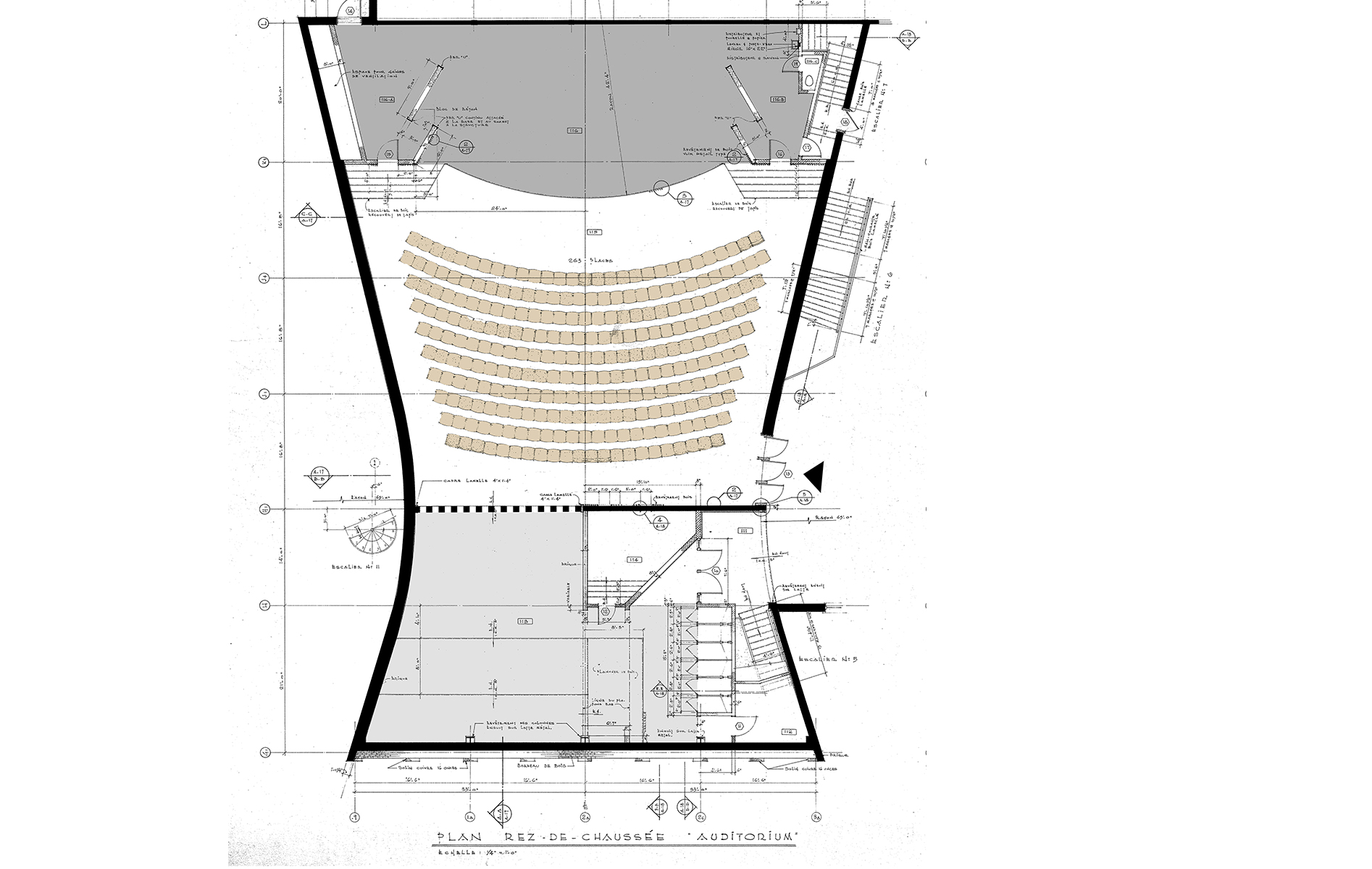 From Classroom to Horseshoe Balcony
From straight rows to horseshoe shape, the new balcony hugs the space and creates a centre. Its side arms create boxes that bring spectators closer to the stage and generate reciprocal views with the audience sitting in the orchestra seats below.
Adding Structure
To support the new floors and spaces, a steel structure is added inside and outside of the existing auditorium volume.
Project Team
Architect Paul Laurendeau | Poulin Laurin + Parent-Labelle | Architects in Joint Venture
Project Architect and Lead Designer Paul Laurendeau
Structural Engineering Latéral + DWB Consultants
Civil Engineering N Sigouin Infra-conseils
Mechanical/Electrical Engineering Pageau Morel
Theatre Consultant Guy Simard + Go multimédia
Acoustics Sonar
Code consultant Technorm
Project Management Ed Brunet